Wedding Expo in Zalaegerszeg, Hungary, 2014 January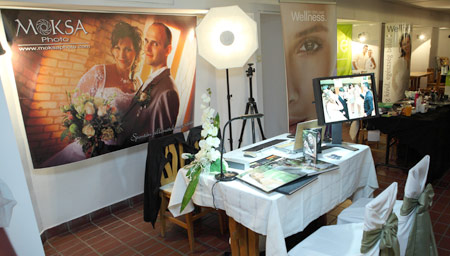 We are over the first weddiong expo in this year that was held in the Ferenc Kölcsey High School on January 26th, 2014. I would like to thank Tímea Gengeliczky for her great organizing work. She had worked really hard to make it as good as possible and brought precise attention to the smallest details. Beautiful dance- and fashion shows were waiting for our visitors.
The cold was sharp outside, we had to drive thorough the icy pavement, but inside we could melt up finally. It was a welcoming surprise for me to find the aluminum liners attached to the wall so my background poster was very easy to install. I could also use the two lapms as a part of my decoration. It took a while to get electricity to the spot we needed but the technical guys took care of it finally and the first visitors started coming. Unfortunately the chocolate fountain was one level down from me, so I am seriously thinking about repositioning my booth next time... :)
To summarize the event it was realy worth to come here and get some exposion because we really had many potential visitors. I had no second hand to help this time, and basically I could not leave my seat even for a toilet :). There was an entry fee at the doors so that served kind of a filter, so only those could come in who were more determined about the expo and the businesses who exposed their services. It was also very nice to find new friends at the neighborhood tables which is always a positive side effect of these kind of events.
Upcoming exhibition is on the 8th of February, let's meet in Keszthely! And after that in Nagykanizsa, on February 15th!!

My special discount for the time of wedding expos that if you reserve an appointment now or a week after, regardless of my packages you will get all the pictures on the DVDs!