Wedding of Nixy and Csaba, werkfilm!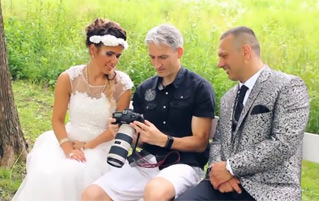 A few weeks ago I had a local photo shoot that is very practical since my office is only a few metres away from the Mayor's office and the Catholic church. The wedding couple with all the guests and the dinner/party were hosted in Lotus Therme Hotel & Spa Hévíz hotel, that is also just a few minutes walk away from me. We started the creative photography on Friday, a day before the Big Day.
Both the make up and the bridegroom's dress were different on both days. The weather was perfect, with a few clouds and nice, rain cleaned. fresh clean air. Most people might think that the more sun the better, but I prefer the best when the sun hides away and comes back sometimes, but mostly you can see nice cloud formations on the sky. It is like a large softbox above our head, emitting a very nice, humble soft light, so we have no harsh, rigid contrast on the forms. It is ideal for a wedding shoot!
The video was made by the talented videographer and master cutter Zsófia Egyed. We would like to say a big thank you for her great job on this! :)