Professional aerial photos and videos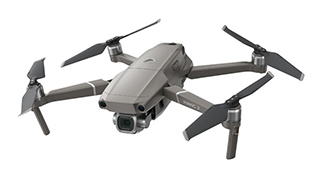 Our perspective is not attached to the ground anymore, we capture our images from the sky as well... :)
The Mavic 2 pro currently (I write this in 2019) has the best quality, Hasselblad camera in the semi pro/pro drone market. It handles really well even in medium wind, it can fly up to 72 km/hour in the range of 5-8 km and has a lot of sensors on all sides to avoid obstacles coming in its way.
It can capture razor sharp images with its relatively large, 1 inch 20 megapixel sensor (that has the same resolution as my professional Canon 5D Mark IV camera) and the 24-48 mm lens, that can provide great quality even at lower light conditions.
This drone can also take videos in 4K with 30 fps but if we go lower with the resolution such as HD we can even achieve as hight as 120 fps, that means we can create super slow motion effects in our movie. Flight time is about 25-30 minutes at once but with the extra batteries we can fly multiple times even 1.5 hours if needed. If the wind is strong, the flight time is somewhat reduced because the engine has a lot more work to compensate and balance the aircraft.
It is imporntat to note that we can fly our drone only where it is not prohibited by law and if the weather conditions are good (we can not fly in storm and rain.) We also need a few minutes to prepare the aircraft for take off and position it where it is the best for our purposes.