Moksaphoto live from the Camino...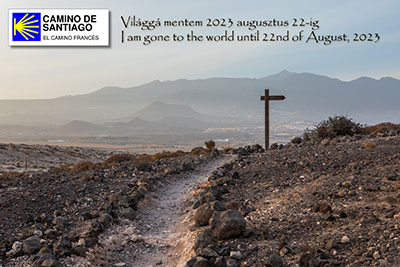 It has been a log time I was plannig to go on this trip that now comes to reality. Where did it come from? I turn to be 50 this year and yess it is a lot :) a half of a century, but we can not stop the wheel of time. But let's see the bright side: I feel blessed and grateful that I could live so far, especially in this world of today, so I should celebrate it on a special way. The Camino seemed to be extreme enough and it is really a time now to sit back and do an overview on my life, what I have done, where I am at and where I am heading to. It is a great opportunity to step out from my daily routine and my comfort zone to silence my mind to be able to see the real myself better, explore the qualities needed to be polished and accept the new things.
When this idea came to me I quickly chekced my calendar and between mid July and end of August it was miraculously empty. Everything before and after were completely booked. This had never happened me before, since this is the middle of the season, but it looks like even Divine providence helped this become reality. It is worth paying attention to these coincidences.
The summer is the hottest in Spain so it is not ideal to go on a trip like this, but since my birthday is in August, I will go anyways. I will be right about half way on that day and I do not know yet if it will hapen with a company or alone as I started this trip, I offer this to the Universe.
I know it sounds strange but even though I am a photographer, I will not take a professional camera with me. One hand I am trying to minimize the weight in my backpack, and I could not get my new, professional and lightweight camera intime, so I just have the action cam and my phone left. My phone is a better one and has a really good camera, so I can still create relatively descent photos and videos. Frankly I am also curious what can I get out of this phone when I have no access to a high end professional camera.
You will be able to see below my latest photos that I post while I am on my way, uploaded by the application that my friend Bálint created long time ago, similar to one of my previous trips that I took
to Thailand
.
I will leave on the 17th of July, 2023 and if I do not get sunstroke, nor the bulls will stub me, I will be back on the 21st of August.
Lets see what I see....