Lux or Lumens? How much light do we need?
Like with
photography
, providing the right amount of light for a task can have a significant impact on efficiency, productivity, and safety. The amount of light needed to properly illuminate a task or process can vary by application.
Lux, lumen, and candela what do these mean and what is the difference?
Lux:
The amount of light that is cast on a surface is called illuminance, which is measured in
lux
. This can be thought of as light intensity within a specific area.
Lumens:
The total output of visible light from a light source is measured in lumens. Typically, the more lumens a light fixture provides, the brighter it is.
One lux is equal to one lumen per square meter (lux = lumens/m
2
). Essentially, as light travels from the emitter, it will disperse throughout an area. The further the light has to travel the more it will be dispersed. Therefore, the amount of lux in an area or on a surface can vary depending upon the distance the light travels and the angle at which it is dispersed. Where the lumens provided by a given emitter are the same, light that travels less distance and/or is more narrowly focused will appear brighter because
lux
are concentrated in a smaller area than light that has traveled a greater distance and has been dispersed over a wider area.
Candela:
We use both
lumens
and
candelas
to measure the luminous efficacy of lighting devices in industrial settings. The following equation roughly describes the relation between candelas and lumens: 1 candela = 12.57 lumens. However, note that directly comparing lumens and candela values of lighting devices is not wise.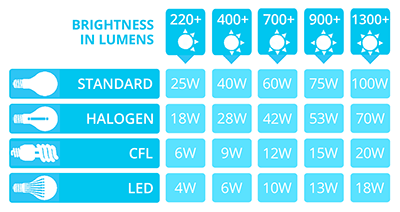 The difference between lumens and candela can be better understood in the context of a comparison between a pencil torch and an incandescent or a fluorescent bulb. The torch has a high candela value because its light concentrates into a single point. It projects in a single direction as a high-intensity beam. While buying a torch, don't concern yourself with its lumens value because you will only use this device to illuminate a very small area. On the other hand, an incandescent light or a fluorescent light bulb has a low candela value but a high lumens value. This is because it emits a greater amount of light spread over a larger area than the pencil torch.
The
lux to lumens calculator
below will help you choose the illumination solution that best meets the specific requirements of your application.
In the following table you can see the Recommended Lux by Application and Age

| | | |
| --- | --- | --- |
| Application | Recommended Lux Ages 25-65 | Recommended Lux Ages 65+ |
| Warehouse | 100 | 200 |
| Work area | 150 | 300 |
| General assembly | 1000 | 2000 |
| Detailed assembly | 2000 | 4000 |
| Fine inspection | 5000 | 10000 |
Source: https://www.bannerengineering.com and https://www.shineretrofits.com/