How can I find the number of expos in my Canon 5D camera?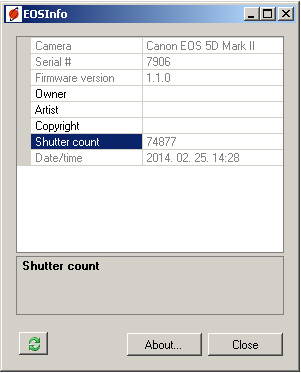 What is a shutter count? The number of expos, images we shot with your camera. Every mechanic device such as our camera's shutter curtain that does this hard job, blocking or releasing light onto the sensor, will not last forever. After a number of times it breaks and then you can buy a new shutter curtain or most likely, another camera.
Right now (February 25th, 2014) it will cost you about 64.900 HUF at Camera Company llc. to replace a shutter curtain in my 5D. It should be considered when calculating the amortization costs of your equipment and the price of your photography work.
After all you may ask how many expos are in my camera? How long will it last? It can be an important quesion if you buy a used camera and/or you are on a wedding and do not want surprises. There is a great statistical database on this page Camera Shutter Life Expectacy about what can you expect from each types of cameras. In my 5D mark II, I currently have 160.000 expos that is pretty old, so I just use it for backup for now.
If you are wondering how many expos you made you often can not get this information from the camera's menu, just like it is with the Canon 5D Mark II. Good news that you do not need to go to the repair for this information. At the astrojargon website you can dowload for free (the site does not work anymore but you can still download it here) the EOSinfo program. Great thanks for the developer! You can use this utililty with a few other cameras as well (pretty much for all that uses the DIGIC III/IV processor such as 5D Mark II, 40D, 50D, 450D és az 1000D). I attached a screen shot how it should look like on your monitor.
Unfortunately I could not make this work on Windows 10. I had to use a Windows 8.1 (or lower) machine, the developer does not seem to update the code.