Authorized Dealers, Unauthorized Dealers, and Grey Market Explained
What's the difference between buying from a Canon authorized dealer, an unauthorized dealer, and the grey market? How does this affect warranty service? Where do unauthorized dealers get their stock from? There is significant misinformation floating around on the Internet in blog posts and forums regarding this topic. We hope to clarify it with this post!
Recall there are three different ways you can purchase your new Canon camera or lens:
New from an Authorized Dealer
New US Model from an Unauthorized Dealer
New Grey Market from an Authorized or Unauthorized Dealer
New from an Authorized Dealer
Canon Inc. doesn't deal directly with retailers in every region. Instead, they setup distribution channels to handle importing their products to the region, selling the products wholesale to retailers, and running regional marketing and authorized repair centers. Generally, the distribution channels are wholly owned subsidiaries (like "Canon USA Inc." or "Canon Canada Inc.").
An authorized dealer (such as B&H, Amazon, or Adorama, or the hundreds of others) is, quite simply, a retailer who has an "official" relationship with the region's distributor. Authorized retailers buy their stock directly from the distributor (who imported the items from Canon Inc.) They agree to abide by rules, like a minimum price at which the retailer cannot advertise below (the dreaded "minimum advertised price", or MAP), and in return they get wholesale volume discounts.
Warranty: You are absolutely guaranteed a 1-year Canon manufacturer warranty for an item you purchased new from an authorized dealer, provided you are the first purchaser.
Buying from an authorized dealer is the most straight-forward: your new camera or lens goes from distributor to store to you (which is more direct than the unauthorized case), and you're eligible for any mail-in rebates or instant savings that might be on offer at the time. These are the most reputable stores around, and their service will be excellent!
New US Model from an Unauthorized Dealer
An unauthorized dealer is a retailer that does not have an official relationship with Canon USA. They can sell either US Models or Import Models. This section talks about US models.
Because the dealer doesn't have a relationship with Canon USA, they can break the rules Canon USA enforces on their authorized dealers: they can sell at any price they want, and they can split up camera body kits. But they don't buy their stock from Canon USA. How do they get US model stock, you may ask? Often they get their stock from authorized dealers!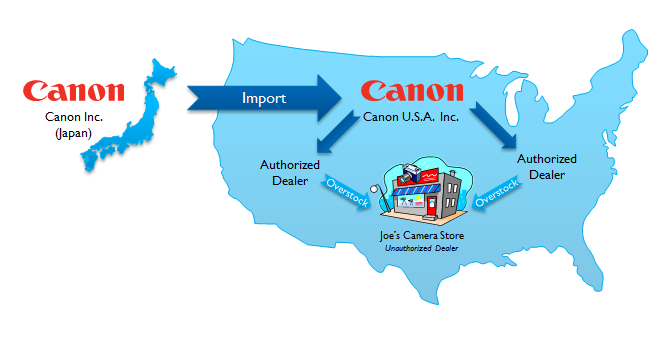 Most of the time you're getting the exact same camera body or lens that you would have gotten from an authorized dealer — in fact, often eligible for the exact same warranty (more on this later). Why is the unauthorized dealer able to sell for hundreds of dollars less? There are two major reasons: volume discounts and split kits.
As a result of volume discount incentives many authorized dealers load up on hundreds, if not thousands, of camera bodies and lenses. When the end of the month or quarter rolls around, stores may be sitting on lots of inventory (especially if sales predictions were wrong). In other industries, this is when you'd have a clearance sale, with steep discounts to move the inventory out the door. However, Canon's Minimum Advertised Price policies often prevent an authorized dealer from actively discounting on Canon items.
The solution for some authorized dealers is to work with unauthorized dealers: authorized dealers can sell their inventory to unauthorized dealers at really low prices; these unauthorized dealers can now make a small profit reselling the equipment at a discount to consumers (disregarding MAP), and the authorized dealers have successfully unloaded their inventory so they can buy more at higher volume discounts.
Many unauthorized dealers also use split kits to further reduce their prices. Canon often packages together bodies and lenses at a reduced price. For example, a 5D Mark III kit including 24-105mm f/4L IS lens can retail for a few hundred dollars less than the body and lens separately. Other times, Canon will offer dealer incentives/discounts so a customer can add a lens (such as a 55-250mm or a 70-300mm) at a steep discount to a body purchase. Authorized dealers aren't allowed to split kits. Unauthorized dealers are great at buying these kits, and then splitting and selling pieces individually, further reducing the price you pay.
Warranty: We did a survey in December of 2012. A total of 27 respondents said purchased a US model camera or lens from an unauthorized dealer and subsequently sent it in for warranty service. In all cases Canon serviced it under the terms of the warranty — all they needed was a receipt with date of purchase. No one was asked for a USA warranty card. Thus we can conclude that US models, even those purchased from unauthorized dealers, are eligible for Canon USA warranty.
Note, in this situation, warranty is at the discretion of Canon and they can unilaterally change their policies at any time.
Grey Market / Parallel Import
Your camera or lens is Grey Market (also known as Import Version or Parallel Import) if it wasn't originally destined for the US market. Once in the USA, it becomes grey market.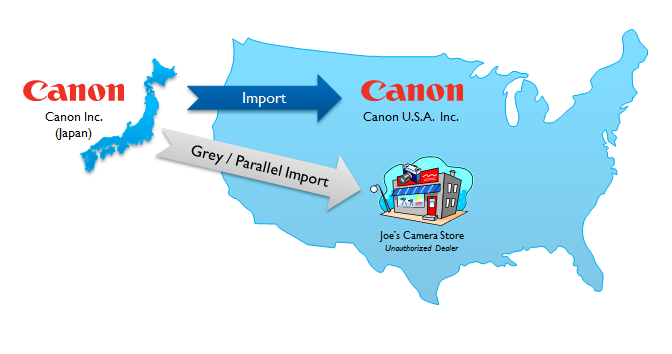 Canon Inc. also sells cameras and lenses to other regions in the world, and can customize their products to that region. Boxes and manuals may have additional languages on them, and, at the low end (point-and-shoot and Rebel-series SLRs) the cameras can be renamed. Fundamentally they're the same quality product, having rolled off the same Canon production line. However, the product has taken a different path to get to you: rather than having purchased the item from the official Canon USA distributor, the retailer has imported it themselves from a foreign Canon distributor (or from an authorized dealer in another Canon region). The retailer is saving money, leveraging different Canon pricing policies in different regions as well as currency fluctuations, and can pass on these savings to you. Japan and Asia are often the sources of many grey market bodies.
If in doubt, ask the store prior to purchasing whether or not it is grey market or US model. One thing to note is the absence of a USA warranty card doesn't indicate that it's grey market — the original US authorized dealer may have removed these cards prior to selling them to the unauthorized dealer. Language of the box, manuals, and default language in camera firmware are tell-tale signs.
Also, some well known authorized dealers will also sell "import versions" of cameras and lenses alongside their US versions. They clearly mark these versions as "imported" or "international version". For example, the 50mm f/1.8 Import Version and the 50mm f/1.8 USA Version at B&H.
Warranty: By the book, you only get warranty in the region your item was originally destined for. If you have a Canon Japan camera, technically you'd have to send your camera back to them for warranty service. In practice though, Canon USA is extremely lenient with its warranty service, especially if you bought the body in the USA. We've never had a reader tell us their US-bought camera was rejected for warranty service. Note, the above statement doesn't apply to clearly imported versions (i.e. different camera name (650D vs. T4i), tampered serial number, etc).
Canon USA repair centers have stated they can't figure out what's import vs not based on serial number. We've had a few readers tell us that sending a non-US version body for warranty repair was successful, but not enough overwhelming evidence for us to loudly announce it. At this time we recommend trying to send items in for warranty repair, even if they're import version; Canon seems to stand behind their products and that's a good thing! Contrast this with Nikon: Nikon USA repair centers won't touch a grey market item, even if you're paying for the repair!
Note, in this situation, warranty is at the discretion of Canon and they can unilaterally change their policies at any time.
Final Words and Listings on CanonPriceWatch
Be wary of store reputation when buying a camera or lens. There are a few camera stores out there that are just bait & switch operations — they'll offer you a camera or lens at a great price, but before shipping your order they'll insist that you buy overpriced accessories or warranties.
All stores listed on CanonPriceWatch have been vetted by us to not be bait & switch, and have over 98% positive feedback. Just remember: not all stores are at the same service quality level (don't expect service at a B&H, Amazon, or Adorama calibre from a discount unauthorized dealer). But we trust that the stores we have listed will, at a minimum, rectify any issues with your order, and if they do not, please feel free to contact us and we'll help however we can.
CanonPriceWatch can take the hassle out of figuring out whether or not a listing is authorized, unauthorized US model, or grey market. Under the name of the store on price comparison listings (e.g. the 5D Mark III) is an indication as to the status of the store:
Authorized Dealer when it is a US model from a Canon authorized dealer
Canon USA Warranty when it is a US model from an unauthorized dealer
Unauthorized Dealer when it is an unauthorized dealer and we are unsure if it's US or import
Grey/Import when it is a known grey market item

Once you've decided that you want to buy a particular camera or lens, the important thing is that you're comfortable with the store you've decided to buy it from. Some people will want the security of purchasing from an authorized dealer, where you'll get the best service and support, while others are happy to save a few hundred dollars by buying US model unauthorized or even grey market. The choice is up to you and is whatever you are most comfortable with!
The source of the original article is here: http://www.canonpricewatch.com/